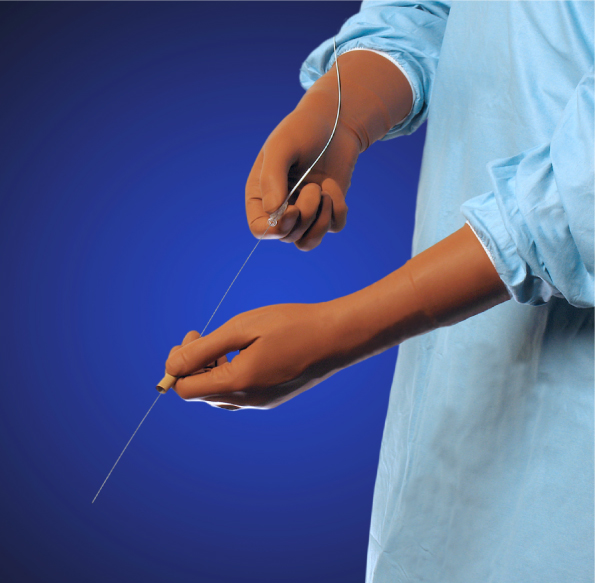 Limited Antiradiation Protection Glove, natural rubber latex with lead oxide.
The sterile gloves are ideal where the user is exposed to ionizing radiations, like during the following types of procedures.
The latex based compound and the flexed fingers anatomic shape ensure to the gloves the softness, elasticity, comfort and dexterity typical of the surgical gloves.
These gloves are Personal Protection Equipments (PPE). Each glove is stamped with the EC marking, since it complies with the prescriptions of EEC Directive 89/686 (and further amendments) in relation to Personal Protection Equipment, acknowledged with L.D No. 475, Dec.4, 1992
Furthermore, the gloves meet the requirements of the following European technical standards: – EN 420/03 (Dexterity)
– EN 421/94 (Protection against ionizing radiations and radioactive contamination);
– EN 374/03 (Protection against chemicals);
Due to the presence of natural rubber latex and lead oxide,the gloves have undergone the tests oncutaneous irritation , allergic sinsitisation and proteins content with the following results:
Cutaneous Irritation 0 = No erythema/edema
4 = Severe erythema/edema
Index: 0.0
Allergic sensitisation 0 = No erythema/edema
4 = Severe erythema/edema
Index: 0.0
Proteins residuals Modified Lowry < 50 μg/gm.
Sterilization: Ethilene Oxide.
Resterilization: By Ethilene oxide (3 times).
The gloves described above contains lead oxide, and therefore can be disposed of only by contacting the appropriate hazardous waste disposal company in the area of ​​competence.