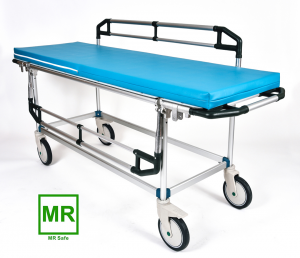 Stretcher for MRI made in anodized aluminum tubular with four cast aluminum joints for the attachment of the side rails; the latter are quickly lowerable thanks to a system of immediate release.
It sliding on four 4 wheels of which the two diagonals with brake.
Fixed height.
Available in two versions:
– Suitable for magnetic resonance up to 3 Tesla
– Suitable for any magnetic resonance
On request is available also the IV POLE.